Please plan to join us Thursday, October 26th from 6-8 pm at Marr Cook for Family Night. The following activities are free: face painting, family photos, tattoos, secret identity craft, science experiments, bingo, puzzles, hula hoop contest, sack races, corn hole, reading room and a coloring station. Goshen library will be here as well. You can also visit the M/C book fair to purchase books. PTO will be selling a very special superhero themed shirt. Several amazing food trucks will be available for you to purchase dinner for the family: A Lil Taste of Soul, Ivan's Mexican Grill, Hole Lotta Love (cotton candy and kettle corn) and Kona Ice. Raffle tickets will be sold the night of the event: 1 for $1.00 or 6 for $5.00 (cash only). Raffle tickets can be used for balloon animals (2 tickets) or to enter the raffle basket drawing. We have 14 awesome baskets for you to win. We hope to see all of our Marr Cook families this Thursday!
Marr Cook is on YouTube! You heard that right. Marr Cook has a brand new a YouTube page. Check back often as we will constantly be adding new content and new segments. Please watch as a family. Then like, comment and subscribe! @MarrCookElementary Or search Matt Cook Elementary
A fire alarm was activated in Marr Cook at 12:20PM due to an equipment malfunction in the teacher's lounge. All students were safely evacuated and accounted for. We have resumed lunches and commend the staff for their quick response to get our kids to safety.
Join HSO for the best tailgate of the year at Goshen SBHC on Friday, September 29th! We're having a Party in the Parking Lot to cheer on the Warriors! Join us in the Marr Cook rear parking lot from 4:30 - 6:30 p.m. for a tailgate party with food, music, giveaways, and more! Tour the new School-Based Health Center and meet the staff, all while cheering the Goshen Warriors on to VICTORY!!! Click the link to register - this event is FREE!
https://www.eventbrite.com/e/hso-goshen-party-in-the-parking-lot-tickets-694799192087?aff=oddtdtcreator
Goshen Alumni Association would like to announce that we are accepting applications for the Hall of Fame. Applications are due by October 30th. The purpose of The Goshen Local Schools Hall of Fame is to honor individuals, establish pride, and preserve the tradition of honoring those who have made a significant contribution to the Goshen Local School District. Information regarding the Hall of Fame and the application can be found by clicking here:
https://rb.gy/wmm00
So much school spirit at MC today! Twin for the win! We even had a group of teachers that were dectuplets.
​Just like that, it's time to get ready for Goshen Local Schools Homecoming 2023! Spirit Week begins on Monday Sept. 4 with the Powder Puff game and ends with the Homecoming football game (Sept. 8) and dance (Sept. 9.) Check out our Homecoming hub​ for information about the parade, how to get tickets, and what Warrior students can wear during Spirit Week!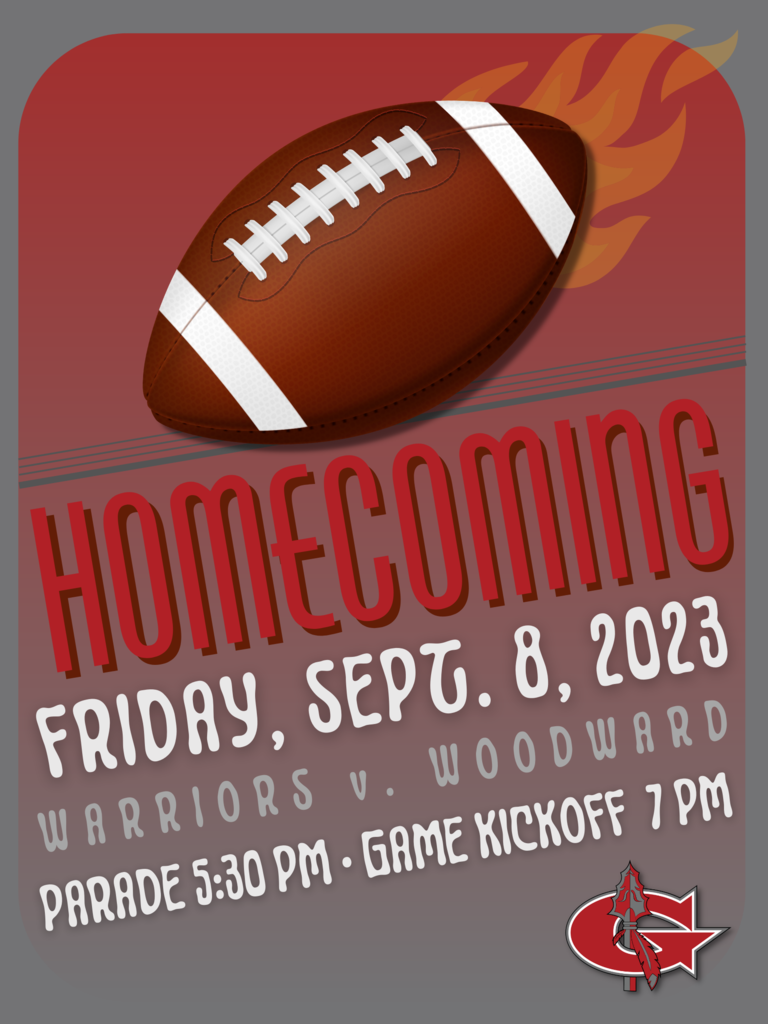 Mrs. Steven's is the Pied Piper of Kindergarten bus drop off. Great way to Warrior Up kindergarten! Look at those walking feet. Happy FriYAY from Marr Cook.
Mrs. Haas giving free swinging lessons! The teachers are having just as much fun as the students.
Great first day here at Marr Cook! We can not tell who missed school more, the students or teachers! So much community building and learning how to be a responsible warrior. Here is to many more amazing days to come. #WarriorUp!
More pictures from Marr Cook open house. Way to show up Goshen! WarriorUp!
Marr Cook open house was a huge success. Thank you to all the families that came out. Thank you to all the teachers that have been working tirelessly to get their rooms ready. We are so excited to start the new school year!
Orientation isn't just for new students -- it's for new Goshen teachers too! Nine new educators were welcomed to the district yesterday with lunch, a meet-and-greet with district leaders and a van tour of our school campuses and district. Welcome to Goshen!
Such a great time at Marr Cook popsicles on the playground. We are so excited for the first day!
Don't forget to fill out this year's Free and Reduced Price meal application -- it is so much more than a free lunch! This form needs to be filled out EVERY year to receive benefits! Online application here:
http://frapps.horizonsolana.com/GOSL01
Reminder: Don't forget to fill out this year's Free and Reduced Price meal application -- it's so much more than free lunch! This form must be filled out EVERY year to receive benefits! Online application here:
https://frapps.horizonsolana.com/welcome
We're excited to see all of our Marr/Cook students and families at our open house on Tuesday, Aug. 15 from 6 to 7 p.m.
All incoming Kindergarten students, parents and guardians are invited to join Principal Stevens, Assistant Principal Larson, and the Goshen PTO for Popsicles on the Playground Thursday, Aug. 10 at 5 p.m.
The time has come to prepare for the 2023/2024 school year. Follow the link to our new webpage to find a story with our back to school guide!
https://www.goshenlocalschools.org/page/2023-2024-back-to-school-guide
We are excited for what is sure to be another incredible year of accomplishments and memories! Let's Do This! FYI there will be more information to come on our new websites and all the great new communication features!